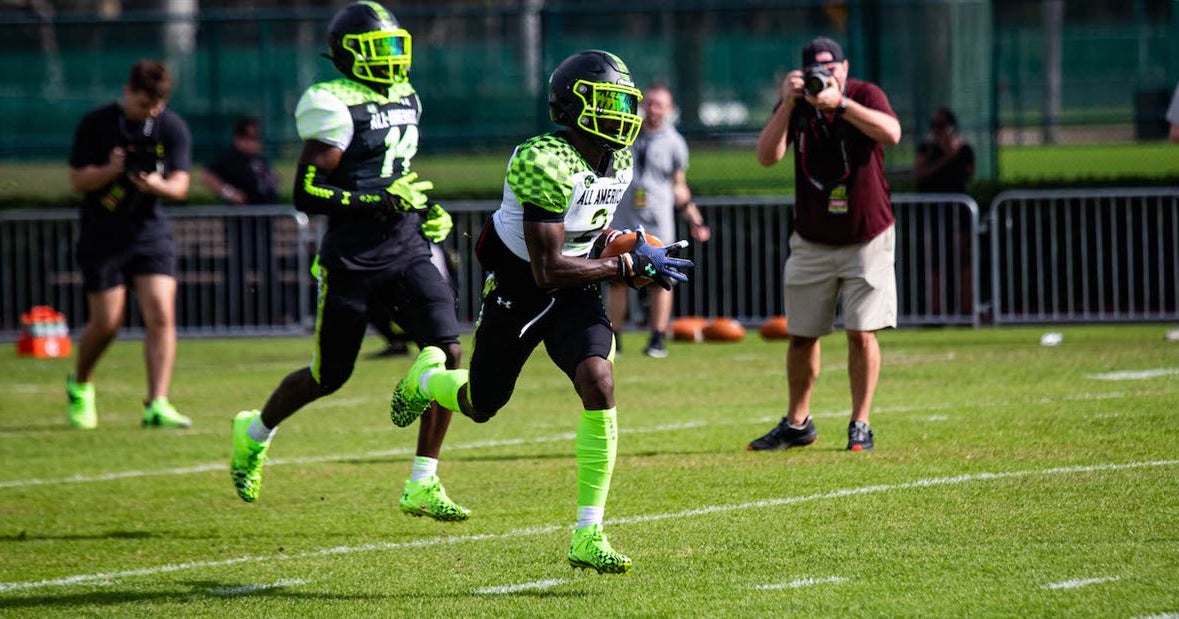 LAKE BUNEA VISTA, Florida. Preparations for the 2023 Under Armor All-America Game continued on Sunday with a two-hour practice session at ESPN's Wide World of Sports Complex. The 247Sports team has some of the top performers and stars below.
Dominant dog: WR Johntay Cook II (Texan signer)
Some of the best road runners in the country are in Orlando this week and while each of them has impressed, it could be argued that Cook could be the best of the bunch after the first three practices. The future Longhorn was nearly unstoppable in Sunday's 1v1 session as he rocked defender after defender with his quick feet and elite brilliance. Cook's small stature may not be for everyone, but he continues to show that he can play much bigger than his height/weight suggests, as he uses his natural bounce and superb body control to catch just about anything that enters its orbit. Cook, who averaged 5.3 catches and 1.3 touchdowns per game as a senior, is expected to become one of Arch Manning's (or anyone under center in Austin's) top targets over the next few years. .
Next Five Offenses
WR Noah Rogers (Ohio State signer) – Ryan Day said on signing day that the four wide receivers the Buckeyes signed are going to have an "impact" in 2023. We'll see if that claim is true, but this would not be the case. Surprising if Rogers made his way onto the field as a true freshman after seeing him run on Sunday. Rogers had two of the most notable catches during the 1-on-1 as he went up and over Texas signee Malik Muhammad for six points, then beat Georgia signee Justyn Rhett for six more.
YOU Duce Robinson – The nation's top-ranked tight end showed his ability to shake up defenders in tight spaces during a 1v1 period in the red zone as he was able to come out of his breaks and create separations before securing the ball away from his body. To put it simply, Robinson is tough coverage for most safeties and just about every linebacker around this week. The MLB-inspired dual-sport athlete has previously made official visits to USC, Texas, Alabama and Georgia.
QC Jackson Arnold (Oklahoma signee) – Another solid outing for Arnold, who actually grabbed a touchdown for 11-on-11 while working a trick play. Arnold was sharp from the jump during mid-air drives as he got the ball where it needed to be time and time again. Although he threw an interception on a pass he would probably like to return towards the end of practice, for the third day in a row he looked like the best quarterback in the pack, which is quite remarkable because it is a talented group.
WR Mikey Matthews (Utah signer) – Matthews was the one who threw the touchdown pass to Arnold on what was essentially a "Philly Special." It was slick, but his effort in Team Speed's 1v1 is the reason he finds himself among the best for the second day in a row. Matthews shifts gears like a seasoned vet and it allows him to find plenty of green grass. For example, he used a double swing to get around Florida signee Shariff Denson and then carried a ball for what would have been 40 yards.
OL Olaus Alin (Alabama signee) Life in Orlando hasn't exactly been easy for the assembled offensive linemen, but Alinen had his moments on Sunday as he held his ground during the 1-on-1. One of his victories came against Jordan Renaud, who was one of the best rushers this week. Alien was also able to open holes during indoor running exercises and gain access to the second level. The icing on the cake ? Alinen won the big man catch challenge by fielding a punt that traveled 60 yards with a four-second hang time.
Next Five Defenses
DL Kelby Collins (Florida signer) — Billy Napier and the folks of Gainesville will probably be salivating once they see the footage from Sunday, because Collins had as good a day as any of the defensive linemen out there. The Yellowhammer State native worked from the inside out and was able to fend off potential blockers as he found leverage and kept the leggings moving. Collins also flashed a nifty sweeping move. UF are rebuilding their first seven and Collins is someone who could possibly play early.
CC Desmond Ricks (Alabama signee) – Ricks may not have hit 100% on Sunday, but he was excellent off the perimeter and gave up only a handful of holds. The former Class of 2024 prospect did a good job sticking his hip on wide receivers and then running down the sideline with them before turning around and looking for the football. Ricks will likely need time to adjust to life in the SEC, but he has a chance to emerge as an impact player for the Crimson Tide with his elite traits.
KG Troy Bowles (Georgia signatory) – The son of Tampa Bay Buccaneers head coach Todd Bowles turned heads on Sunday when he undermined a pass down the middle and took it the other way to what could have been a pick six in a real game. Bowles was also sticky in coverage during 1-on-1s, which isn't all that surprising considering how much of his senior campaign he spent deployed as a two-man safety. UGA has an abundance of defensive riches and young Bowles is yet another chess piece for Kirby Smart.
DL Rueben Bain (Miami signer) – Is he an edge player or inside pass thrower? We do not care. Bain lined up inside and out on Sunday and found great success smashing his way into the backfield for multiple sacks in 1-on-1 play. Bain has a unique build, but he makes it work , and he's starting to remind us a bit of the current Melvin Ingram given his dimensions. Bain made it clear he wanted to earn Defensive MVP honors on Tuesday. His engine could make that possible.
CC Ethan Nation – Nation isn't as tall as the other defensive backs on Team Speed's roster, but he took more reps than any of them on Sunday and was the difference breaker by breaking pass after pass for the 1 against 1. A two-way player who has fallen into one of the highest classifications in the Peach State, Nation is pretty solid technically as he understands how to play angles and take away throwing windows even with his short stature . Nation is set to commit on ESPN's broadcast on Tuesday.
More information on the Sunday session
–Port of Nycolles Once again, he exemplified what makes him so unique as he raced past Oregon signer Daylen Austin and into the end zone for a score. Too many people want to focus on what Harbor is is not right now as a football player instead of trying to maintain the idea of ​​who he is could to be one day. Austin, by the way, is a 10.9 guy in the 100 yards.
Alabama wide receiver Jalen Hale put a defender on skates during 1-on-1 with a clean cut. He was definitely another eye-catcher during the 1v1s as he was a USC signee Zacharias BranchColorado signer adam hopkinsSouth Carolina signer Kelton HendersonUSC signatory Lemon Makai and signer of West Carolina Santana Fleming.
-There's a lot to love about tight ends/h-backs Khamari Anderson and Luke Hasz as both appear to be natural pass catchers and advanced road runners. There are some size limitations, but it should be able to have an impact in the SEC with Anderson heading to Kentucky and Hasz heading to Arkansas.
-It was another promising performance for the Texas A&M defensive line signing David Hickswho was our dominant dog Saturday. Alabama signer Jordan RenaudOklahoma signer Adepoju AdebaworeFlorida signer Will Norman and signatory UCF John Walker are other pass rushers who flashed again.
Kansas State Quarterback Signer Avery Johnson he struggled with accuracy at times, but he reminded everyone that he is a dynamic runner when he went over 20 yards for a touchdown.
–Ja'keem Jackson had a nice interception in the 1-on-1. Guess the Florida signer has only been playing cornerback for less than a year because he has all the tools to possibly shut down one side of the field on Saturday.
-LSU cornerback Javien Toviano He is another great cornerback who had a favorable day as he was tasked with covering a full range of offensive weapons.
-Team Phantom had a lot of trouble just to break the ball. One inside lineman, however, who deserves some recognition for his efforts on Sunday is the UF signee Roderick Kearneywho did a good job setting up his base and participating in the fight.
247Sports' Greg Biggins, Brian Dohn, Allen Trieu, Bud Elliott, Sean Bock and Gaby Urrutia all contributed to this report..