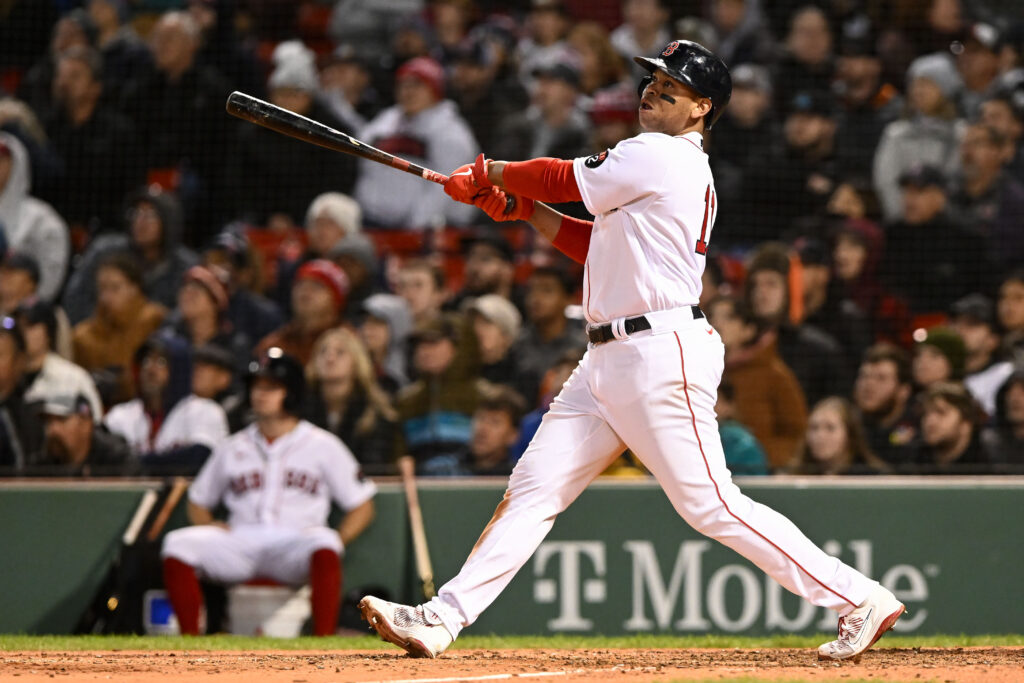 The Red Sox entered the offseason hoping to re-sign Xander Bogaerts and extending Raphael Devers, locking this dynamic hitting pair into the heart of the order for the foreseeable future. Instead, Bogaerts signed an 11-year contract with the Padres, and talks with Devers have yet to bear fruit. Devers did accept a one-year contract with for the next 2023 season yesterday locking in his salary at $17.5m, but he was already under club control and the newly agreed pact does little to advance long-term talks.
Both Jon Heyman from the New York Post and MassLive.com's Chris Cotillo today report talks of a long-term deal have been "stable" over the past few weeks, however. As Cotillo points out, that wasn't true at the start of the offseason. Yet the parties are known to face a substantial gap. Devers is reportedly looking for a deal north of $300 million, and given his age (26) and proximity to free agency (upcoming offseason), that's unlikely to change anytime soon.
If anything, the current offseason's flurry of mega-deals for A-list stars has likely only hardened Devers' position further; He doesn't have the defensive value of players like him Trea Turner, Carlos Correa or even Bogaerts, but Devers will be a younger free agent than anyone who accepted a major contract this winter. Devers will play the entire 2024 season (his first year as a free agent) at age 27. Turner (30 in June), Bogaerts (already 30) and Correa (who turned 28 in September) are all older, as is Judge Aaronwho signed a nine-year, $360 million contract at the start of his 31-year-old season.
Devers, of course, is one of the best hitters in the American League – as evidenced by a .292/.352/.532 slash over the past four seasons. He has topped 30 home runs twice, including a 38 home run campaign in 2021, and was also at a pace of around 30 home runs in the shortened 2020 season. The main blow to Devers has been his defensive prowess, or lack thereof, prompting some to wonder when a move to first base might become necessary.
The Sox, however, hope to have their first baseman of the future set to prepare for MLB in the form of a top prospect. Triston Casas. The 23-year-old future slugger debuted with a .197/.358/.408 batting line in 95 board appearances last year, and while the low batting average is obviously discouraging, it has come in a small sample. Casas also raked in a .273/.382/.481 clip in Triple-A Worcester over a wider sample of 317 plate appearances.
Casas has recently been the subject of trade rumours, thanks to a Miami Herald report that the Marlins Asked about the former first-round pick and Miami-area native in talks involving the Marlins' young pitching stock. However, Alex Speier of The Boston Globe Highlights the many reasons why a Casas trade is decidedly unlikely. As Speier notes, the team's belief in Casas helped temper interest in Freddie Freeman during his free agency and also contributed to the Red Sox's decision to release him Eric Hosmer.
Speier writes that the Red Sox are indeed intrigued by adding to the top half of their rotation — as most teams are — but perhaps not at Casas' expense. The Sox seem willing to move pitchers off their big league roster, according to the report, "potentially" even including the right-hander. tanner's hook. To be clear, there's no indication that Houck has been discussed extensively (or at all) with the Marlins or any other club, and there's no suggestion the Red Sox are buying the 24-year-old right-hander outright. year.
Still, Houck would be an interesting name for other clubs to look into, given that he's controllable for another five seasons and has hit a 3.02 ERA (2.95 FIP) in his first 146 innings in MLB. The Sox surely like Houck and would likely only part ways with him in exchange for a meaningful (and controllable) upgrade elsewhere on the pitching squad or roster. Dealing with Houck while simultaneously looking to provide rotational assistance is perhaps counterintuitive, but despite his progression through the system as a starter, Houck has worked more in the bullpen than rotation in the Majors – including making 28 of his 32 appearances in 2022 as a reliever.
If the Sox view Houck primarily as a reliever – GM Brian O'Halloran was somewhat evasive On Houck's 2023 role in November – it makes sense to be ready to at least listen to offers. Boston has, after all, added to its bullpen with offseason additions of Kenley Jansen, Chris Martin and Joely Rodriguez but has been less active with regards to rotation, where Corey Cluber is the only addition so far. Again, none of this is to say that Houck is readily available, but the mere possibility of the team coming up with some entertaining deals is interesting at least.
Moving on to an entirely separate matter, the Sox officially announced their coaching staff for the upcoming season earlier this morning. There are no surprises among the names included. Pitching coach Dave Bush, batting coach Peter Fatse, bullpen coach Kevin Walker, assistant batting coaches Ben Rosenthal and Luis Ortiz, third base/infield coach Carlos Febles, planning/catching coach Jason Varitek and field coordinator Andy Fox. As noted earlier in the offseason, Ramon Vazquez is the team's new bench coachwhile Kyle Hudson has been hired away from the Guardians as the new first base/outfield coach.