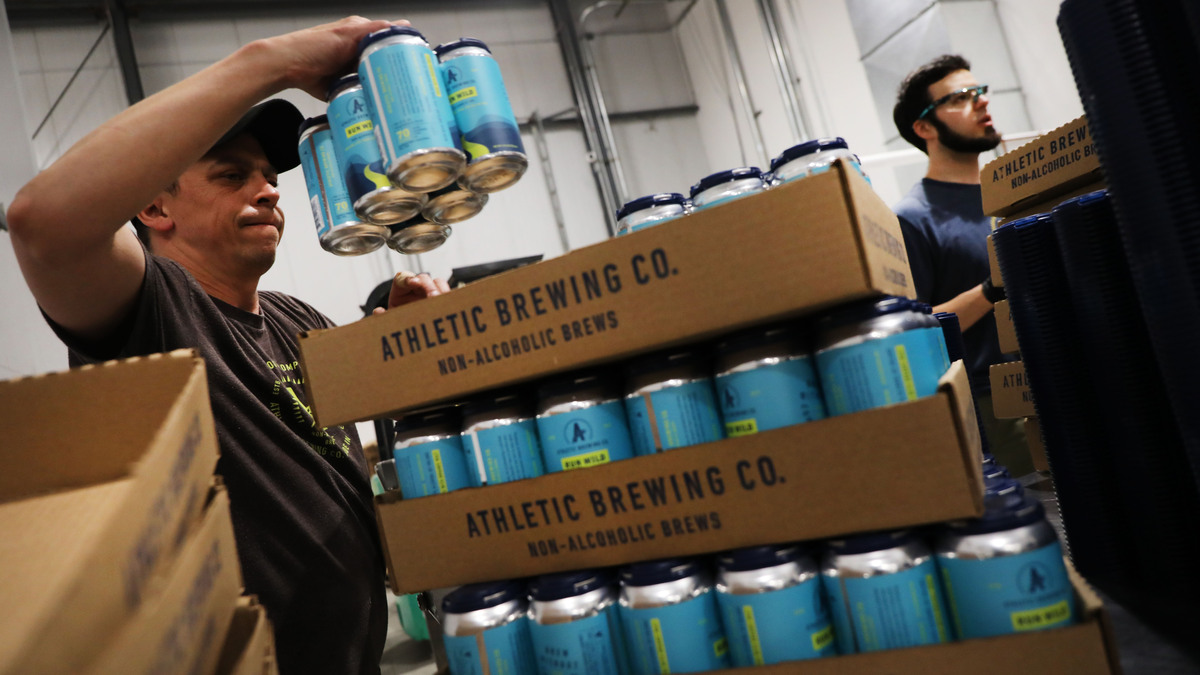 Spencer Platt/Getty Images
Make alcohol-free IPAs. Kentucky 74 spiritless bourbon. Monday Zero Alcohol Gin. Luminara de-alcoholized chardonnay. Zero-proof margaritas.
Not too long ago, O'Doul's, a non-alcoholic beer, was essentially the only buzz-free game in town. But now, if you like the taste of alcoholic beverages but dislike the effects of alcohol, you are living in a golden age.
The trade in beer, wine and non-alcoholic spirits is booming. Over the past year, "more than 70 new items have been launched in this space as consumers seek health and wellness alternatives in their shopping habits," says Kaleigh Theriault, representative of NielsenIQ, a company data analysis.
NielsenIQ data shows that the market for non-alcoholic beer, wine and spirits grew by more than 20% last year, and by more than 120% over the past three years. The market now records nearly $400 million in annual sales. Compared to around $200 billion market for stuff that can get you drunk is, of course, peanuts: non-alcoholic alternatives only concern 0.47% of the alcohol market. But liquor companies, entrepreneurs and a growing list of celebrities clearly see a lot more room for growth.
Over the past two years, Katy Perry spear De Soi, a sparkling alcohol-free aperitif; model Bella Hadid co-founded Kin Euphorics, which offers soft drinks like Dream Light, "infused with adaptogens, nootropics and botanicals like Reishi mushrooms, melatonin and L-tryptophan"; and NFL defensive end JJ Watt and chef David Chang invested at Athletic Brewing Co., a non-alcoholic craft brewery.
Budweiser recently used the World Cup (hosted by anti-alcohol Qatar) to promote Budweiser Zero, which, as the name suggests, contains zero alcohol.
Justin Setterfield/Getty Images
Megan Klein, an entrepreneur in the non-alcoholic alcohol market, Told Market last year that she sees this consumer trend – sometimes called the "sober curious" movement – as part of a growinganxiety economyIt is A brand for a range of products – like meditation apps, squishy stress balls, self-help books and online psychiatry services – that benefit a growing number of people trying to reduce their level of anxiety and improve their physical and mental health.
[Editor's note: This is an excerpt of Planet Money's newsletter. You can sign up here.]
Of course, instead of drinking one of those fancy liquid concoctions, you can just drink juice or water. But you can legitimately love the taste of beer, wine and spirits. Moreover, alcohol plays this almost ceremonial role in our parties and social gatherings – as it has thousands of years. These non-alcoholic beverage alternatives offer consumers a way to sip something festive while avoiding the pitfalls of alcohol; or at least reduce their overall alcohol consumption.
A substitute or supplement for alcohol?
At first glance, fake alcoholic beverages seem to be – to use economic language – a substitute for real alcoholic beverages. From this point of view, consumers drink them instead of alcoholic beverages and hence their demand for alcoholic beverages naturally decreases. This is probably the case for many consumers.
But it is also possible that, for some people, soft drinks are not a substitute. They could be an add-on – which is economics language for consumer goods that are often bought together, like peanut butter and jelly. Data from NielsenIQ suggests this may indeed be the case. It reveals that 82% of people who buy non-alcoholic beer, wine and spirits Also buy traditional alcoholic beverages.
Additionally, according to NielsenIQ, households that buy alternatives to alcohol are generally more valuable consumers to the alcohol industry, spending about $160 million more per year than households that only buy alcohol. that makes you drunk. According to Theriault, manufacturers and bars may be using alternatives to alcohol as "a way to promote responsible drinking while engaging consumers in the alcohol industry."
So whether you're kicking "the laugh juice" for health reasons or just want to cut back this month, there's never been so many options for Dry January. Cheers!