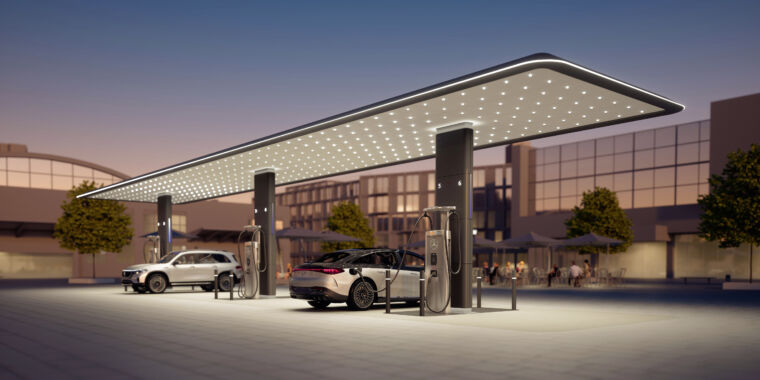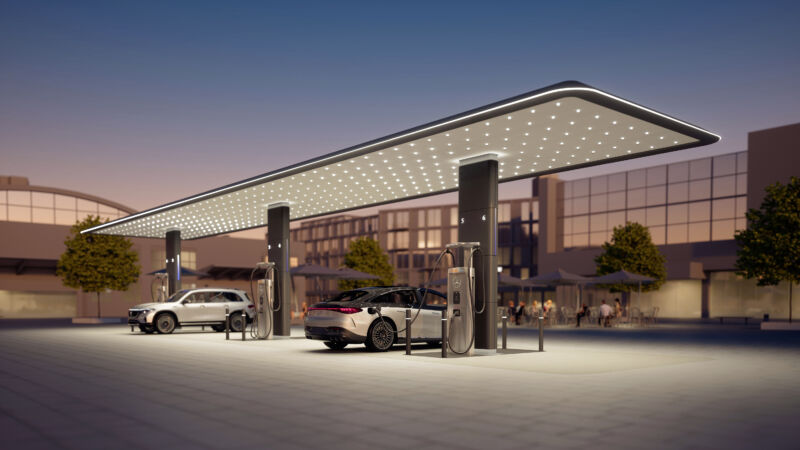 On Thursday, Mercedes-Benz announced its entry into the field of DC fast charging for electric vehicles. The German automaker is in the midst of an electrification push and a plan to be carbon neutral by 2039, and it obviously doesn't believe the current charging infrastructure is as good as its new EVs, so it does something about the situation. Mercedes announces plans to deploy more than 10,000 fast chargers worldwide, starting with North America.
The new network is separate and independent from Ionity, the European fast charging network supported by Mercedes, BMW, Ford and Volkswagen. In the United States, Mercedes is partnering with charging company ChargePoint and MN8 Energy, a battery storage and solar energy company. Together, they will deploy over 2,500 DC fast chargers in over 400 locations across the United States by 2027.
"Mercedes-Benz customers deserve a compelling charging experience that makes it easier to own an electric vehicle and travel long distances, and that's why we're launching a premium global charging network that will deliver a charging to match the extraordinary Mercedes driving experience." said Ola Källenius, Chairman of the Management Board of Mercedes-Benz Group AG. "We are excited to start right here in North America with two strong and experienced partners, ChargePoint and MN8 Energy."
The chargers will be plug-and-charge compatible and will not be limited to Mercedes' electric vehicles. Mercedes also says locations and surroundings will be chosen carefully – too often banks of DC chargers are located in desolate, lonely corners of shopping mall car parks, which can make overnight charging a stressful experience for some drivers. . Thus, the OEM plans to build the Chargers "with food outlets and restrooms located nearby." It also says there will be surveillance cameras and other security features in place to provide "a safe and secure charging environment".
At least four outlets per hub, possibly up to 30
Expect a minimum of four DC chargers at each hub, similar to an Electrify America charging location. But some hubs will have up to 12 chargers, and there are plans for up to 30 in some places. The hubs will use ChargePoint's Express Plus modular system, which is capable of up to 500kW per charging port, although Mercedes says the chargers will have "up to 350kW" of power. And charging management will ensure that if multiple EVs are charging at the same time, one charger doesn't end up throttling the rest.
"Through this partnership, we are expanding our existing relationships with Mercedes-Benz and MN8 to provide a seamless charging experience for drivers and turnkey charging solutions with no upfront cost for accommodation providers," said Pasquale Romano, CEO of ChargePoint. . "We believe the expansion of charging hubs like these will enable the emergence of a new 30-minute retail economy at the intersection of innovation and accessibility that combines charging and commerce, providing drivers with a superior experience to recharge quickly and easily."
In line with the company's 2039 sustainability goals, the electricity it will use will come from green energy providers or come with renewable energy certificates. Some hubs will use solar power to power lighting and security cameras.
"MN8 Energy is on a mission to provide enterprise customers, such as Mercedes-Benz, with renewable energy and related solutions on their journey to an electrified and carbon-free world," said Jon Yoder, President and CEO of MN8 Energy. . Supporting the development of this exceptional charging experience helps overcome one of the biggest barriers to EV adoption: range anxiety. With each party playing to their fullest, we're excited to embark on this collaboration to expand access to charging with Mercedes-Benz and ChargePoint. ."
None of this will be particularly cheap. In fact, the initiative will cost more than $1.1 billion (€1 billion) over the next six or seven years, with the costs split evenly between Mercedes and MN8 Energy. And that's just the beginning – plans for more Charger rollouts in Europe and China will be announced in the future.