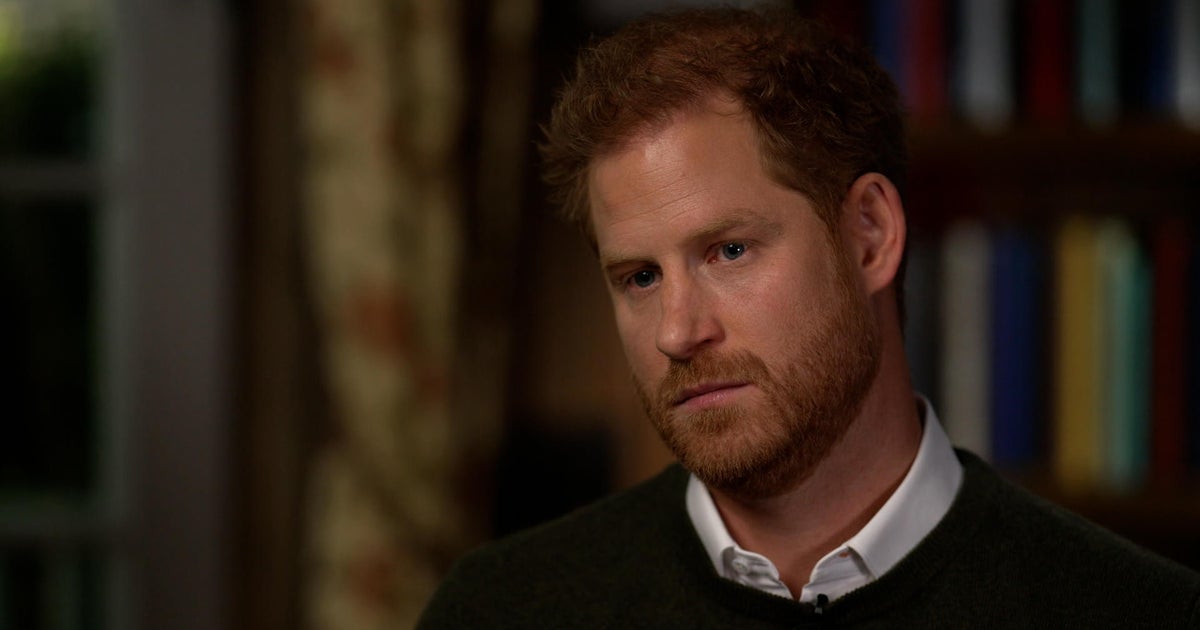 Prince Harry spoke for the first time on American television about his upcoming memoir, "Spare", in a 60 minute interview with Anderson Cooper. These are some of the revelations from their conversation.
Harry was 12 when his mother, Princess Diana, was killed in a car accident in Paris. It was August 1997 and Harry was at Balmoral Castle in Scotland with other members of the Royal Family. In his book, Harry described the moment his father, Prince Charles, woke him up to tell him what had happened.
In the book you write, 'He says, 'They tried, my darling boy. I'm afraid she didn't make it. 'These phrases stick in my mind like darts on a board,' you say," Cooper said. Did you cry?
"No. No. Never shed a single tear then," Harry said. "I was in shock, you know? Twelve years old. Sort of – 7am, 7:30 in the morning, early. Your dad comes in, sits on your bed, puts his hand on your knee and says, 'There's had an accident. I couldn't believe."
"You write in the book," Cooper said, "'Dad didn't hug me. He wasn't good at showing his emotions under normal circumstances. But his hand once again fell on my knee and he said, 'It's going to be okay. But after that, nothing was going well for a long time.'"
"No, nothing, nothing was right," said Harry.
Harry writes in 'Spare' of how he reacted in the days and years following the death of his mother, Princess Diana, in 1997. He told Cooper he didn't believe Diana was dead.
"For a long time I just refused to accept that she was – she was gone," Harry said. "Partly, you know, she would never do this to us, but also partly, maybe it's all part of a plan."
"Did you really think," Cooper asked, "that maybe she just decided to disappear for a while?"
"For a while and then she'd call us and we'd go and join her, yeah," said Harry, who was 12 when his mother died.
Harry says he sought help from a therapist seven years ago and reveals he has also tried more experimental treatments to try and cope with the grief he still feels from his mother's death.
"You write in the book about psychedelics," Cooper said. "Psilocybin Ayahuasca mushrooms. They were actually important to you."
"I would never recommend people do this recreationally," Harry said. "But doing it with the right people, if you're going through a tremendous amount of loss or grief or trauma, then those things have a way of working like medicine."
"They showed you something," Cooper asked. "What did they show you?"
"For me, they cleaned the windshield, the windshield, the misery of the loss," Harry said. "They swept away this idea that I had in my head that – that my mother – that I needed to cry to prove to my mother that I missed her. When in fact, all she wanted, it was for me to be happy."
Prince Harry was in London last September for a charity event when the palace announced that Queen Elizabeth II was under medical supervision at Balmoral Castle in Scotland.
"I asked my brother, I said, 'What are your plans? How are you up there, you and Kate?' And then, a few hours later, you know, all the family members who live in the Windsor and Ascot area were jumping on a plane together," Harry said. "A plane with 12, 14, maybe 16 seats."
"You weren't invited on that plane?" Cooper asked.
"I wasn't invited," Harry said.
By the time Harry arrived alone at Balmoral, the queen was dead.
Harry writes that when he introduced Meghan Markle to his family in 2016, his father first loved her. But her brother, Prince William, was skeptical.
Other family members, Harry told Cooper, were also uneasy.
"From the start, before they even had a chance to know her," Harry said. And the British press jumped on it. And here we are.
In his book, Prince Harry's portrayal of his stepmother, Camilla, now the Queen Consort, is perhaps the most critical. She married then-Prince Charles in 2005, although the two had been involved on and off for decades. Princess Diana called Camilla a "third person" in her marriage, and Prince Harry hasn't forgotten that.
She was described by the tabloids as "the bad guy," Harry told Cooper. "She was the third person in their marriage. She needed to rehabilitate her image."
"You and your brother directly asked your father not to marry Camilla?" Cooper asked.
"Yes," said Harry. We didn't think it was necessary. We thought it was going to do more harm than good, and if he was with himself now, that…that's probably enough. Why go that far when you don't necessarily need to? We wanted him to be happy. And we saw how happy he was with her. So, at the time, it was 'OK'."
"It was a buildup of – frustration, I think, on his part. It was at a time when people in his office were telling him certain things," Harry said. And at the same time, he was consuming a lot of tabloid press, a lot of stories. And he had some issues, which weren't based on reality. And I was defending my wife. And he was coming for my wife. . She wasn't there then, but through the things he was saying. I was defending myself. And we went from one room to the kitchen. And his frustrations grew, and grew, and grew. He was yelling at It wasn't nice. It was not pleasant at all. And he snapped. And he pushed me to the ground.
"He knocked you down?" Cooper asked.
"He knocked me over. I landed on the dog bowl," Harry said. "I cut my back. I didn't know it at the time. But, yeah, he…he apologized afterwards. It was quite an unpleasant experience."
Although Harry and William seemed inseparable to the outside world growing up, the two have lived separate lives since their mother died.
"Even when you were in the same school, in high school," Cooper told Harry, "Your brother told you, 'Act like we don't know each other.'"
"Yeah, and at the time it hurt. I couldn't figure it out. I was like, 'What do you mean? We're in the same school now,'" Harry said. Like, 'I haven't seen you in ages, now we can hang out.' He's like, 'No, no, no, when we're in school, we don't know each other.' And I took that personally. But yes, you are absolutely right, you hit the nail on the head. Like, we had a very similar traumatic experience, and then we…we dealt with it in two very different ways.
60 Minutes has contacted Buckingham Palace for comment. Palace officials demanded that before we consider commenting, we provide them with our report before it airs, which 60 Minutes does not.