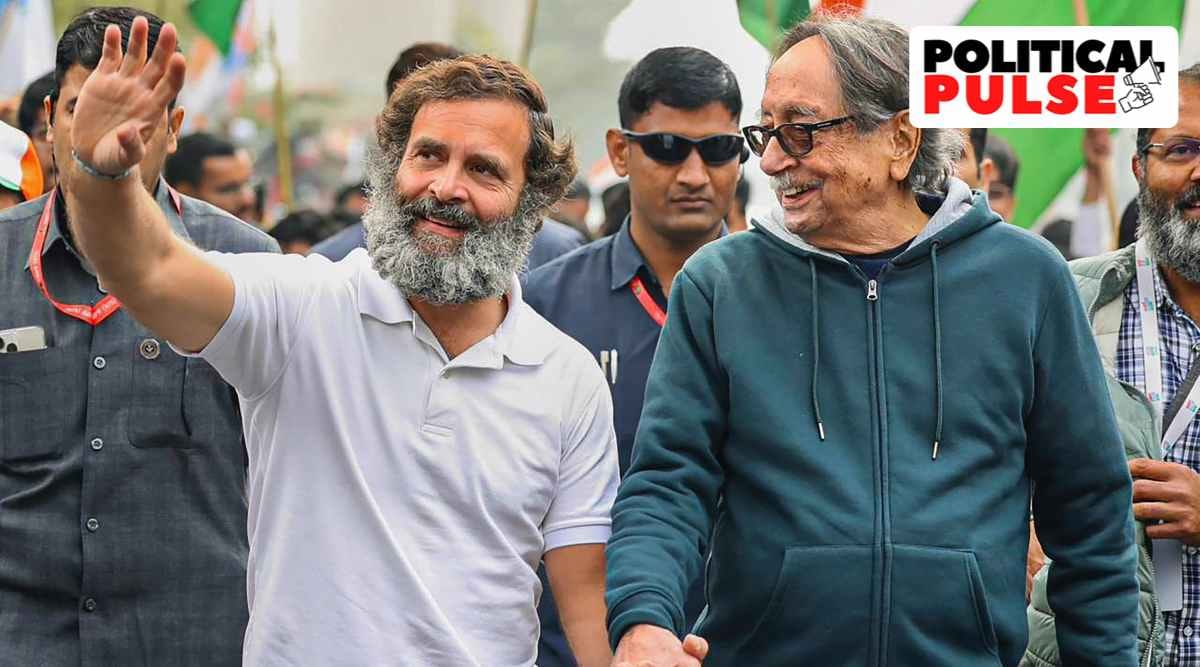 A few days after the former governor of the Reserve Bank of India (RBI) Raghuram Rajan joined the Bharat Jodo Yatraformer head of the Research and Analysis (R&AW) wing, AS Dulat, marched with Congress leader Rahul Gandhi on Tuesday as his cross-country march resumed from Delhi.
In a virulent attack, the BJP questioned the decision of the "controversial" Dulat. "No one has ever accused Dulat of being attached to his job or the country he was supposed to serve, of having supper with secessionists and the deep state of Pakistan, and of playing a monumental role in the Kashmir fiasco," tweeted Amit Malviya, head of the BJP's IT cell.
Like Rajan, Dulat had received a personal invitation from Rahul to join the yatra. The congress leader wrote personal letters to several prominent figures, calling on them to participate in the march "designed to awaken the nation's conscience to crippling inequality, brutal social polarization and violent authoritarianism".
Dulat, an IPS officer from the class of 1965 who served as the Special Director of the Bureau of Intelligence (IB), is considered one of India's leading Kashmir experts and served in Srinagar in the 1980s as a IB officer. Rahul will conclude his Yatra by hoisting the Habs in Srinagar on January 30.
Although the BJP raised questions regarding Dulat's tenure on Tuesday, during the Atal Bihari Vajpayee PMO from 1999 to 2004, he had been his adviser on Kashmir. Dulat even wrote a book called 'Kashmir: The Vajpayee Years' based on this era.
Talk to The Indian Express, Dulat said that walking in the Yatra was a wonderful, "fantastic" experience and an "exceptional" exercise. He joined Rahul as the Yatra reached Shahdara and walked with him for an hour.
Welcoming the 'young man's' invitation, Dulat said: "I thought, let me go and see what it's all about…something different, something exceptional that he's doing. My friend Sudheendra Kulkarni had walked with him in Haryana and sent me photographs. This also encouraged me. In the end when I received an invitation, I thought I had to go there and let me check.
Dulat said participating in the Yatra was "quite an experience" for him. "The people who showed up for him are not usual, not normal. There is something that attracts people, especially young people. The streets were absolutely jammed. It was quite an experience. I thought it would be a lot easier but…"
Joining a political event organized by a political party, he said, "I am not a politician. But is there anything wrong with someone who retired…that was 22-24 years ago…joining something they think is good?…I think what this young man is certainly something exceptional… incredible.
When asked what drew him more to the Yatra, the message or the sheer effort of walking, Dulat replied, "Everything…I don't think anyone will ever do it again. No one has and I don't think anyone will walk that many miles again.
The former R&AW chief added: 'It's not a fraud. The man walks… He promotes the idea of ​​India.
When asked if the move meant he planned to join Congress, Dulat laughed. "It's 30 years too late now… I'm way too old for politics. If anyone tries to say or suggest that I join Congress, no, no… Congress has been in power for so many years and we have served with Congress. I know a lot more congressmen than BJP people. That I worked with Atalji was an exception. He was an incredible human being. These are exceptional experiences.
National Congress spokesperson Abhishek Singhvi pointed this out. "Good to see AS Dulat joining #BharatJodoYatra, haters need to remember he was one of the most trusted Mr. AB Vajpayee on the Kashmir issue and now he sees RG as a better alternative," tweeted Singhvi.
In his letter inviting Dulat to join the Yatra, among others, Rahul wrote, "We listen to anyone who wants to be heard. We do not offer any judgment or opinion. We march to unite all Indians, regardless of gender, caste or religion, because we know they are equal citizens. We march to fight hate and fear.