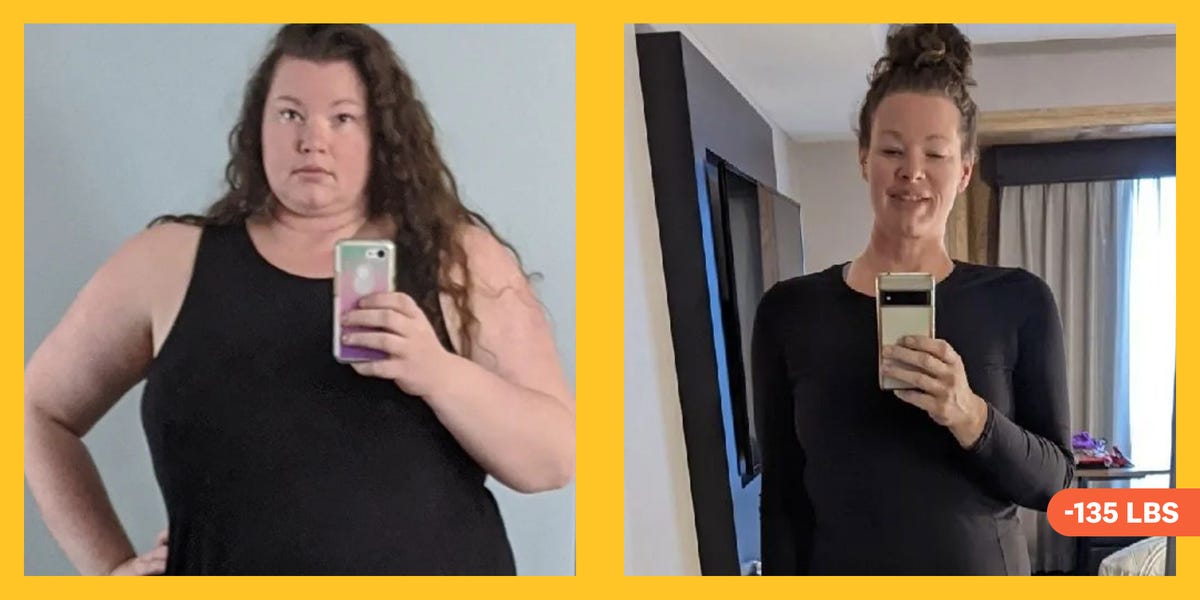 My name is Sarah Lessner (@lesslessner), and I am 36 years old. I live in Denver, Colorado, and I'm a software engineer. Realizing that I had to change my lifestyle before it started to affect my health, I revised my eating habits by counting macros and gradually incorporated more exercise into my routine over time to losing weight. I was able to lose 135 pounds in the process.
---
I had always been a little heavier as a kid, but I was a medically healthy weight. I just wasn't skinny. My weight skyrocketed in college and then I lost about 70 pounds – I went from 270 to 200 pounds in my last semester of college. I maintained this weight loss for a while and started running when I moved to Chicago after college.
I ran a marathon in 2010 and then moved to Austin, Texas. At this time, my husband became seriously ill and the weight slowly regained depression. At 34, I weighed 350 pounds.
Things came to a head at the start of the pandemic in 2020 when my weight was already so high and I knew I couldn't let it get any worse. So I started making small changes to how often and how much I ate, and tried to take care of myself through better nutrition. It was small, but a start.
In April 2021 I went to the dentist to have a cavity filled and my blood pressure was high. This has always been very common for me because I'm very anxious about the dentist. But this time they got a doctor to sign off on me being allowed to have the procedure. Although my blood pressure was normal and no medical intervention was needed, my blood work clearly showed that things were not going in the right direction. My doctor was nice about it, but ultimately the message was clear: Lose weight or you'll need medication in the future.
Another factor that helped start my weightloss trip was that my husband was officially diagnosed with adult-onset type 1 diabetes. And although he had different health considerations than mine, we both found ourselves in need of a complete overhaul of the way we ate and lived our lives. We knew it was time to get serious. We never looked back.
Now I eat all foods in moderation.
Tracking Macros works for me because it's not a restrictive approach. Any food can be part of your diet, it's about the right energy balance. I find it more durable and it has worked for me in the past so I went back down that path.
And after I lost a lot of weight, I started to focus more on it quality of my nutrition (meeting a protein goal) and not just the number of calories.
This is what I eat in a day now.
Breakfast: Eggs, turkey breakfast meats, protein shake.
Lunch: Wraps or salads, or ready meals like Clean Eatz and My Fit Foods.
Snacks: Fruits, yogurt, nuts, granola bars, dark chocolate, popcorn, vegetable straws.
Having dinner: Same as lunch, but more likely to occasionally cook for dinner. Salmon, tacos, pasta and sometimes breakfast for dinner.
Dessert: The delicious Caramel Cashew Ice Cream Bars have been my favorite lately!
I immediately started doing light exercises.
I walked regularly and did yoga on YouTube. But initially, I was mostly focused on cleaning up my diet.
After a few months, I joined Base6 Fitness, a gym downstairs from my house. They offer HIIT courses, dumbbelland yoga. It was intimidating at first, but I found a great community there that keeps me motivated.
I started running after losing 85 pounds, and chasing a new personal best motivates me as well. I run three to four times a week and take a few HIIT classes, weight training sessions, and two to three yoga classes.
These three changes made my weight loss a success.
No food is a bad food. I was in the trap for so long of wanting to eat healthier and then eating too much junk food "for the last time". I needed to let go of all or nothing thinking and find balance and a better relationship with food.
Make incremental changes. There's a theme here with all-or-nothing thinking: I didn't need to go from the couch to being punished through workouts. I also couldn't force myself to go from eating so many calories to very few all of a sudden. Small changes have had a big impact. I started slow and added more exercises and diet changes over time.
Rest is important. In addition to letting go of all-or-nothing thinking about food, I had to do the same with exercise. Rest is so important to your health and recovery. I didn't want to put too much pressure on myself and exhaust myself.
So far I have lost about 135 lbs. This happened over two years, with about 115 pounds lost in the past year.
I don't think I realized how much I was suffering from being overweight. The weight gains slowly and you get used to feeling bad, thinking that everything is fine or that you are getting old. Getting in shape and losing weight makes everyday life easier and more enjoyable.