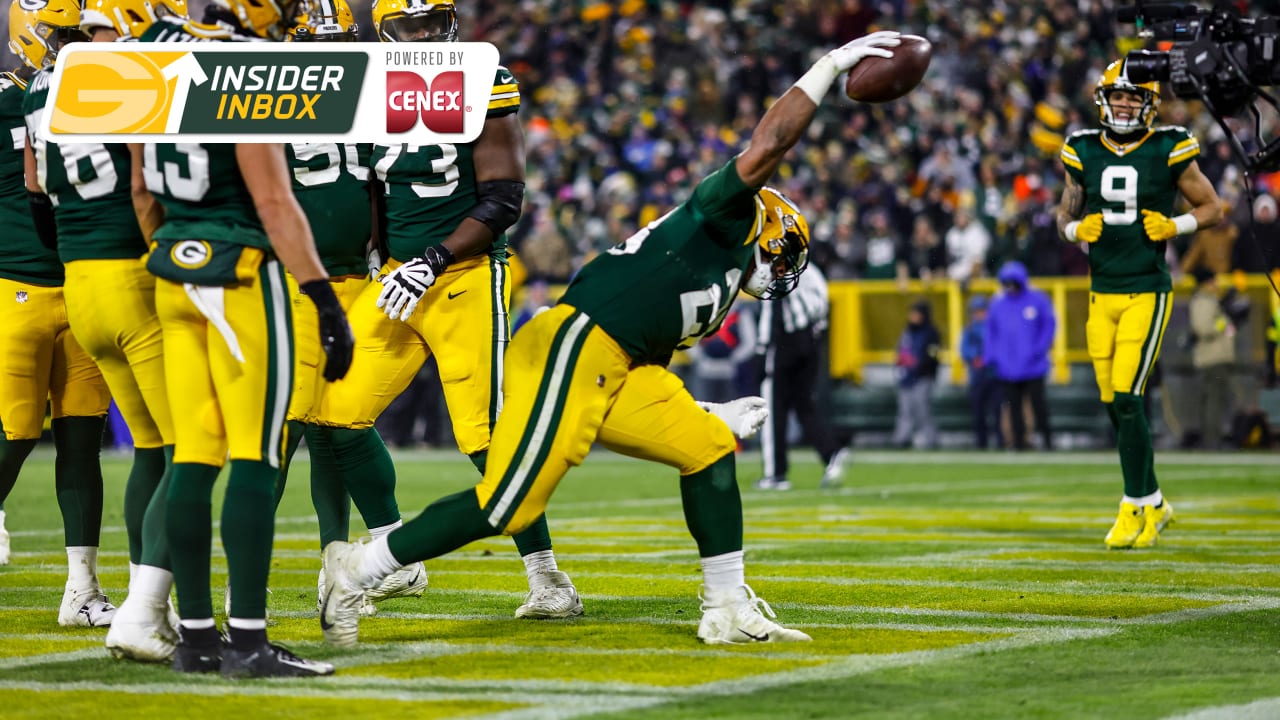 Hello. What are your thoughts on Alexander JaireJustin Jefferson's comments? Game or bite the bear? Thank you.
Knowing how the industry works, I thought this some of Alexander's comments would be removed from Friday's headlines. What wasn't played as well was the respect Alexander Jefferson showed by saying his name in the same breath as Davante Adams when talking about the NFL's best receivers. Jefferson is one of the best in the game. Unfortunately for the Packers, they're going to be dealing with him for a very long time. Alexander usually plays big in big games. It will be an entertaining game to watch.
Sitting at Lincoln Financial Field a few weeks ago, watching the Packers go down 14-0 early against the best team in the NFC, I figured I'd learn who that team is over the next three quarters, and I did it. They started pushing an arrow that pointed straight into a slightly more favorable position and have continued to do so ever since. Hopefully that continues at Lambeau Field this weekend.
The Packers still have a long way to go to make a playoff push, but I find it interesting that this potential run started in Philadelphia – much like 2016. Now the Packers haven't won this year's fight with the Packers. Eagles, but they came out of this very different team. This was the time when Green Bay could have exploited. They chose not to and here we are.
The Packers had no defensive strategy for Jefferson in Game 1. Did the DC learn from this mistake?
I think so. The Packers coaches and players are acknowledging their Week 1 shortcomings. Honestly, the defense has played a really good ball from Philly. Jefferson goes for his catch. He's been one of the league's greatest playmakers over the past month and one of the main reasons the Vikings are 12-3. The Packers can't give him free reign and room to run in the open field. More than just matchups, I think that's what went wrong in the first game. Jaylen Waddle and Tyreek Hill were a good test last week in Miami and hopefully Green Bay's second-half performance against these two elite receivers continues in this one.
Robert from Corpus Christi, Texas
Congratulations to Aaron Jones on moving up the Packers' all-time leader list. He and AJ Dillon are a great double. Can Jones stay healthy enough to get us to the playoffs?
It depends on the ankle. He had some issues with her in the second half of the year. Jones only touched the ball eight times in 25 snaps in Miami. It would be ideal if the Packers could double those numbers on Sunday. Jones rushed for 587 yards and five touchdowns on 108 carries (5.4 yards per carry) in eight games against Minnesota. He rushed for 412 yards and four touchdowns on 70 carries (5.9 ypc) in all four wins. He has 175 yards and a touchdown on 38 carries (4.6 ypc) in losses. So tell me how important Jones is in this offense.
Patrick from New Market, MD
I was surprised to see that the 1,000 yard duos from scrimmage didn't include Edgar Bennett-Dorsey Levens. I never checked that, but they made a great tandem there. For my question, does Cliff have an article on Buckets Goldenberg, a Packer in the 30s and 40s? Buckets was a friend of mine's uncle.
Bennett and Levens were very effective running backs for the Packers, but only really got that Super Bowl XXXI season together. Bennett broke his Achilles the following year and moved to Chicago, while Levens didn't really come into his own until that 1997 campaign. Also, here's Cliff's Entrance to Goldenberg.
Keith from Dodgeville, WI
Guys, I can't believe Allen Lazard got fined for taunting after throwing best block by a WR this season and no-call for PI, come on man!
I expected no less from the NFL. It's kind of the league's MO Emphasize calls on the field that impact the actual game.
Lori is from Cherry Valley, IL
Do Green Bay and Minnesota players and coaches have curfew rules since they play on New Years? Go pack go. Happy New Year to Wes, Mike to all employees, coaches, staff, trainers, players and fans. Long live 2023!
Matt LaFleur actually asked himself that exact question on Friday. The Packers know what's at stake here and will act accordingly. The team also has a full working day on Saturday. I doubt many guys are coming in until midnight.
Wes, if you were to give either team a health-based advantage, which team and why? Which team will have the most favorite starters in the lineup on Sunday?
I would say the Vikings have the advantage there. Minnesota has 10 guys on IR right now, but only four players are listed on the injury report. This will also be Austin Schlottmann's fourth straight start at center for Garrett Bradbury.
What if the pack and the Vikes were tied?
I head to the office with the Advil.
Peter from Morganfield, Kentucky
El Segundo's David said he would like a bombshell for Christian Watson in the first offensive game on Sunday. While that would be amazing (if it worked), I think if coaches try to be cute, it would be more likely that Watson would run as a decoy when the objective of the game is elsewhere. ML and AR can always get back to Watson deep in player two or three. I can't wait to find out!
I just want to see Watson on the pitch. It's not the same No. 9 that the Vikings faced in September – and that one was pretty good. Patrick Peterson has had a terrific year since being knocked out of the line of scrimmage at US Bank Stadium. Watson has made his share of rookie mistakes, but the Packers are a different offense when he's on the field.
Richard from Lac du Flambeau, WI
Hey Mike and Wes, will you be nervous if the Packers lead 32-0 at halftime?
I have a little more confidence in Matt LaFleur to handle such a scenario.