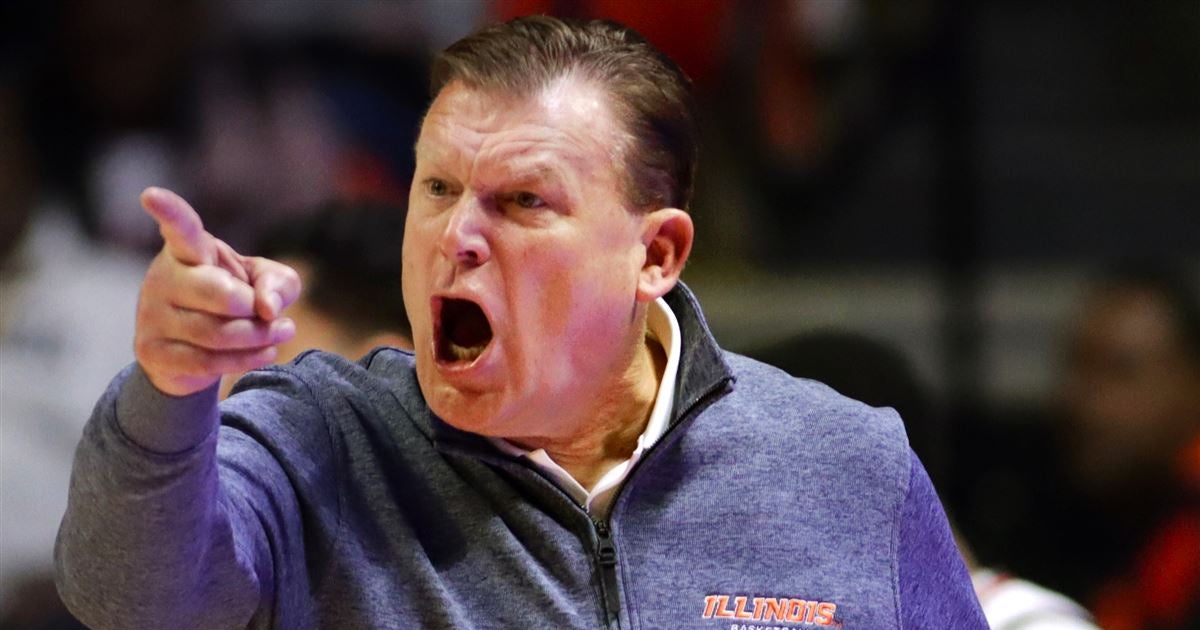 CHAMPAGNE— There have been some eyebrow-raising moments with this Illini squad here recently. And not in the same way when Illinois beat No. 2 Texas less than two weeks ago.
Since then, this recent streak has been characterized by outward frustration, disappointing performances and pointed comments to the press. Brad Underwood took his team to task for its lack of leadership and effort after a shocking 15-point loss at home to Penn State last weekend.
With a week to think about it and also sweat it out during some demanding practices, there was a lot of intrigue surrounding how the Illini would react the following Saturday. Safe to say the response wasn't ideal against Alabama A&M, which ranked 334th out of 363 D1 teams on KenPom.
Illinois scored just two runs in the first nine-plus minutes of the second half. They were on the wrong end of a 16-0 run against one of the worst teams in Division I, making it a one-point game.
When things went wrong, the body language was bad. The Illini looked dejected. And for a long time, there was no clear answer on who was going to come to the rescue and provide the necessary injection of energy and score.
Turns out it was Matthew Mayer, who produced an exceptional second half. The fifth-year transfer from Baylor had 15 points (7 of 8), four rebounds, two blocks and two steals in 12 minutes of action after halftime. The table was set for his late game push to be the main story – or so we thought – after a 68-47 win.
Of course, it wasn't going to be all candy canes and sugar plums at the post-game press conference for a team capable of so much more than what they presented (again) . When Mayer took the mic, he was visibly frustrated and he said it bluntly.
"I was not happy at all that we were (within) three of a team like that," he said. "It was not funny at all for me. People were laughing. I just arrived and was pretty upset in huddle and let everyone know and just tried to play as hard as I could.
The "laughing" comment was particular. Moments later, Mayer was asked what had changed defensively in the final 10 minutes, as the Illini allowed just 10 points in that final streak.
"I think we were just a little more motivated, maybe. We had a pretty intense hug at that 10 minute mark. I think people were just ready to go. I really don't know, "he said at the end, looking away with visible annoyance.
The growing feeling was one of internal disconnect, which Mayer expressed in response to a question about why this team hasn't put up a consistent effort in the past two games.
"I'm not the right person to ask about this because I really have my own opinions on this which I won't share here on this podium," he said. "I think we have a lot to settle internally between the players and the coaches. It will be something that we will have to understand in practice.
Terrence Shannon Jr. was asked to comment on the matter as a solidified team leader.
"Like Matt said, it's just something we have to figure out as a team," Shannon said. "Once we figure it out internally, I'll be ready to talk about it."
Mayer went on to explain that he and Underwood didn't quite agree.
"We've had really tough training the last two days and I was expressing how upset I was about it and he was saying how much we worry about the bad things that worry us about training and our body and stuff," Mayer said. "He's seen what we can do and he's just trying to push us and he knows we're going to beat Alabama A&M. I was upset because I was saying 'that was too much'. He was like, 'Do you really think I'm worried about Alabama A&M? I'm trying to push y'all for stuff in the future. So, I guess that makes sense to me.
He later added: 'I think where me and Coach Underwood could split up a bit is that I have a lot of issues with my body that I'm trying to work on and that's a big guys "everything is mental". I think we have a misunderstanding on this. Yes I'm still fasting and it's helped me a lot and I would attribute that to why I've played better the last three games more than any mentality because I'm the same person as the last year.
Mayer isn't the only point of reference for what appears to be a team struggling to be on the same page. Coleman Hawkins made some interesting comments and expressed his own frustrations during Friday's pregame media availability.
On the note of Underwood's spirited approach after Penn State: "I think we need it. I think he's been pretty lenient with new players this year," Hawkins said.
Underwood highlighted Hawkins as one of the guys who needs to take on a leadership role.
It's hard because it goes both ways. You get on top of guys and yell at them and then all of a sudden they tell you you need to relax. I've yelled at some guys during media downtime, but they always seem to calm me down," Hawkins said. bit too soft, in a way.I think we needed a week like the week we got.
Hawkins struggled on Saturday with five turnovers, while being too hesitant from a scoring perspective. He lowered his head and seemed to have trouble shaking it. Underwood, who simmered in silence for the majority of the first half for a multitude of reasons, tore Hawkins apart during a timeout before halftime.
The junior big man has been in the program long enough not to take him by surprise. On Friday, he was asked how he learned to deal with this – when other members of the squad might be new.
"I just know a lot of things are going to be said. Just grant it. Trent (Frazier), all these guys were good at just kinda saying, "No, fuck that." Move Coach's words to the side and just play through. That's kind of what I do," Hawkins said. "Sometimes we stop and listen to him talk and I'm just like, 'No, come on. Let's keep going. Once he screams and screams and you sit there listening to it, you're going to think about it all the time and you just have to move on.
Do whatever you want with it. At the very least, it's an interesting take. And yes, an honest one.
The bottom line
I said at the start of the year that I thought Underwood had one of the most fascinating jobs among his peers among college basketball coaches.
He went from being the Big Ten's winningest program in the previous three seasons with a group of veterans, cohesion, an established culture and two Illini greats in Ayo Dosunmu and Kofi Cockburn to now have a roster full of newcomers and a new style of play, but the same level of expectations because of the talent he's gathered.
It would have been shocking if this team hadn't experienced a few bumps in the road early on. Heck, even Underwood's most tried and true teams hit rough waters in the first half of the year.
That said, the challenge is different this year. Speed ​​dating in the portal led to quick marriages, and unlike previous seasons, Underwood didn't come in with an established inner alpha who could set the tone, clear some people up, while being fully aligned with the leader. after going through invaluable battles in the field. Dosunmu and Frazier were those guys.
This does not mean that their presence eliminated the possibility of inner turmoil. But did they play a big role in solving this problem more quickly and quietly? I don't think there is a question.
What we see now is a collection of new pieces that come through real adversity and experience the grind of the season together for the first time. And there are more visible and audible conflicts from the outside. Contrary to the social media denial by some Illini players on Saturday night, it's hard to deny based on what the guys have said on the record over the past week.
Highlighting a conflict doesn't mean I'm predicting the death of this team. I didn't consider that. I've been around the block enough times to know that it's inadvisable to overreact to Underwood teams in December. He has shown time and time again that he forces his teams to turn the corner.
But again, it's a different test. There's a lot more to figure out on the fly, not just from a basketball perspective, but also in terms of chemistry. In his sixth season at the helm, this must be the first time Underwood players have publicly questioned his approach.
Welcome to the transfer era, I guess. His most experienced and proven players in Shannon and Mayer have been with him for six months. Underwood is going to do things differently than what these guys were used to in their previous stops. It's fair to say that Mayer and Underwood are still adjusting to this.
"He's always adapting to us and what we're doing and we're always trying to find the right buttons to push," Underwood said.
Illini's head man was in a state of conflict in command throughout Saturday's game. During back-to-back timeouts in the second half, he played slowly to join the group as he sat in his chair and stared at the floor.
Can we agree that 8-3 with a national ranking and two brand wins isn't a bad place for a team looking for answers? Absolutely. Can we read the clues and quotes well enough to conclude that the mood is a bit off right now? I don't see how that's debatable.