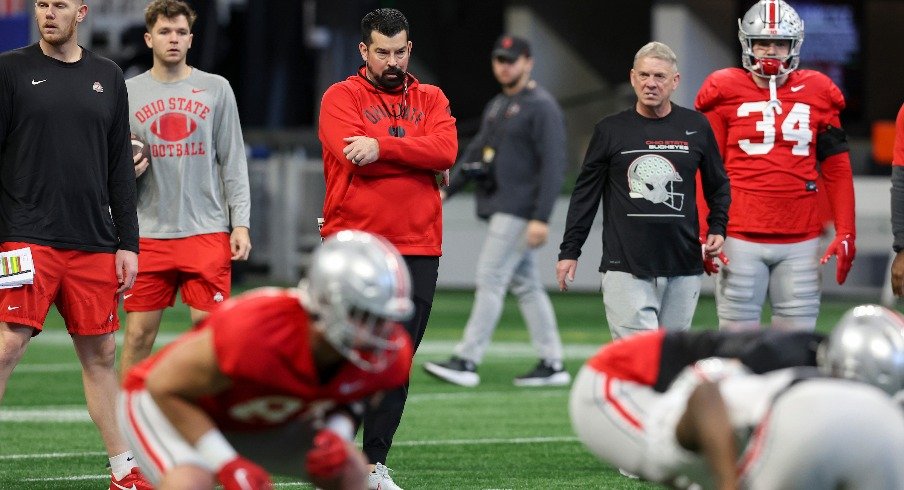 Ohio State opened some practice for the second and final time on Thursday ahead of this weekend's college football playoff semifinal at the Peach Bowl.
Members of the media were on hand for warm-ups and three subsequent action periods at Mercedes-Benz Stadium as Ohio State worked with multiple special teams units, entered individual drills and requested members of the third offense to play 11-on-11 against the scout team defense in the no-tackle scrimmage rehearsals. The media were introduced before the live representatives of the first or second team began training.
Perhaps the most important news of the day was miyan williams return, who missed his scheduled interview slot on Tuesday, was absent for Wednesday's open practice viewing window and was not present at Ohio State's media day on Thursday. Tony Alford said Thursday that Williams is suffering from a stomach problem but is expected to be available in Saturday's college football playoff semifinal against Georgia.
Miyan Williams goes through RB drills with Tony Alford and co. pic.twitter.com/6VduIETnlf

— Griffin Strom (@GriffinStrom3) December 29, 2022
While not as relevant to the upcoming contest, Devin Brown produced the highlight of the 15-minute viewing window as the freshman quarterback led Ohio State's third unit on offense against a defending scout team. Brown saw extended action under center with no rotation at quarterback and eventually hit fellow freshman Kyion Grayes on an accurate, high-arc long bomb into tight coverage for a touchdown from at least 50 yards out.
Brown's entire offensive line was made up of scout teams wearing black jerseys, but with him and Grayes were freshman receivers Caleb Burton and Kaleb Brown, freshman tight end Bennett Christian, tight end sophomore Sam Hart and running back Cayden Saunders. Beyond a few outstanding pass completions, Brown also executed several quarterback running plays during the practice period.
Devin Brown completes Caleb Burton along the sideline in 11v11 during OSU practices: pic.twitter.com/VZ3r94vsZi

— Griffin Strom (@GriffinStrom3) December 29, 2022
The defense during the 11v11 period was mostly made up of players from the scout team. Still, those not wearing black scout team jerseys included freshmen Caden Curry, CJ Hicks and Ryan Turner, as well as fourth-year defensive lineman Jaden McKenzie.
More quick notes from Thursday's training session:
TreVeyon Henderson, who was not spotted in Wednesday's open practice session, was in attendance Thursday and watched running back drills on the field while wearing a boot. Henderson, who underwent surgery after the regular season, didn't seem able to bring his injured leg into contact as he supported it on a hands-free crutch to walk.
TreVeyon Henderson watches training in a boot: pic.twitter.com/0i91KRhB2h

— Griffin Strom (@GriffinStrom3) December 29, 2022
Gee Scott Jr. He was in uniform but stood aside and did not participate in drills during the open observation window.

For the second consecutive day of training, Kamryn Babb was out of uniform and did not participate in drills as he stood on the sidelines.

After appearing at Ohio State practice Wednesday, Fairburn, Georgia native and recent 2023 signing Jelani Thurman was back at practice Thursday to watch the Buckeyes prepare for the Peach Bowl.
Practice in progress for OSU. Miyan Williams is here today. 2023 signee Jelani Thurman is back to watch practice for the second day in a row. pic.twitter.com/ZMGCJaB2nK

— Griffin Strom (@GriffinStrom3) December 29, 2022