COVID lockdowns have contributed to this, even though public health figures claim otherwise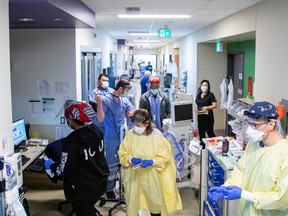 Content of the article
Although Canada has never maintained a running tally of seasonal illnesses, it's clear the country is absolutely hammered by a tidal wave of flu and respiratory viruses right now.
Content of the article
Children's hospitals have been overwhelmed since Halloween by what a Montreal doctor described as a "explosiveflu season. The critical shortage of childhood cold medicine in the country also continues, with Health Canada now saying the backlog will not be completely eliminated. until 2023.
Content of the article
There is compelling evidence that much of this disease is a side effect of COVID restrictions – although there remain members of the medical community who staunchly claim otherwise.
The basic idea is that social distancing, masking and school closures have not only slowed the spread of COVID-19, but have also curbed the usual spread of diseases such as influenza, respiratory syncytial virus (RSV ) and the common cold. And now, with civil society reopening, all those seasonal viruses are playing a vicious game of catching up.
Content of the article
"Because we haven't seen these viruses in the last few years, we see them all coming together, and there's not that immunity that we usually see in older kids," Mona Jabbour, acting chief pediatrics at the Children's Hospital of Eastern Ontario, recently told reporters.
Just last week, Ontario's Chief Medical Officer of Health Kieran Moore suggested that mask mandates contributed to the outbreak of childhood respiratory viruses this winter.
Moore defended masking as the best measure available to Ontario at the time, but noted that it did not come without epidemiological costs. "We obviously see that there are negative consequences of not being exposed to normal respiratory pathogens over time," he said. told the Ottawa Citizen.
Content of the article
Not only are there more infections, but they are likely to be more serious. Michael Rose, pediatric resident at Johns Hopkins University School of Medicine, noted in a recent column that he sees fewer mothers passing antibodies to their newborns, making babies especially susceptible to cold and flu infections that they might otherwise have avoided.
"Immune Debt is Immunology 101: Hosts whose immune systems have not been properly primed are more prone to infection and serious illness," Rose wrote.
Nonetheless, the concept of "immunity debt" has drawn fierce opposition from some corners of the Canadian medical community, some of whom go so far as to call it "misinformation."
"I actually think (immunity debt) is a dangerous term to use because it kind of gives a negative connotation to the public health measures that saved us from morbidity," said Samira Jeimy, a clinical immunologist at St. Joseph's Health Care London, told Global News last month.
Content of the article
McGill University's Office of Science and Society has published a stand claiming that there is no evidence that the pandemic measures were "under-stimulating" the immune systems of Canadian children. But the same article acknowledged that Canada is indeed experiencing an upsurge in childhood viruses that most children lack immunity to due to COVID shutdowns.
"If by 'immunity debt' we now mean that these are viruses that many children were not previously exposed to and they are now all infected with them at the same time, then yes, there is a type of immunity debt, I guess, that read.
The issue is not as contentious in Europe, where medical figures have been far less hesitant to identify national spikes in coughs, sore throats and fevers as an expected echo of pandemic restrictions.
Content of the article
Nature, the renowned scientific journal headquartered in the UK, unequivocally declared in early November that cold and flu viruses are mow down western populations who had been rendered "immunologically naïve" by COVID restrictions.
Another UK-based medical publication, New Scientist, took much the same tone. "It's possible that two things are true: it was right to have lockdowns and yet the restrictions also had downsides." wrote medical correspondent Clare Wilson.
And as of September, a study published in The Lancet used national health data to identify a direct link between pandemic measures and a post-COVID rise in UK RSV cases.
The figures "support the concept of immune debt as an unintended consequence of non-pharmaceutical interventions," it read.