A 97-year-old former Nazi concentration camp secretary has been convicted of complicity in the murder of more than 10,500 imprisoned people and given a two-year suspended prison sentence.
Irmgard Furchner, who has been on trial in the northern German town of Itzehoe for more than a year, addressed the court on one occasion earlier this month to say she was sorry for what what had happened, but refrained from admitting guilt.
The start of his trial was postponed to September 2021 when she briefly went on the run. Having failed to appear in court, she was found by police a few hours later on the outskirts of Hamburg, after which she was held for five days and given an electronic wrist tag.
Furchner had worked at the Stutthof camp between 1943 and 1945 as secretary to the camp commandant, Paul Werner Hoppe, when she was 18 and 19 years old. She was tried in juvenile court due to her age at the time the crimes were committed.
She is the first civilian woman of Germany being held responsible for crimes committed in a Nazi concentration camp.
Judge Dominik Gross said the trial would be "one of the last criminal trials in the world relating to Nazi-era crimes" and took the unusual step of allowing the proceedings to be recorded for "historical purposes".
The trial, which spanned 40 days of approximately two-hour hearings due to the defendant's advanced age, heard from 30 survivors and relatives of Stutthof prisoners from the United States, France, D Austria and the Baltic States.
He also heard from historical experts who gave details of daily life in Stutthof and the role Furchner played in helping the bureaucratic treatment of prisoners, as well as information on the treatment of prisoners, including methods of torture and the proceedings involved in the systematic murder of thousands of them, whom they said had been deprived.
Many prisoners were left to starve and freeze in the open. An estimated 63,000–65,000 people, including about 28,000 Jews, were murdered in Stutthof, mostly in gas chambers, some shot in the back of the neck, for which the prison had a specially built facility.
One of the most memorable co-plaintiffs was 84-year-old Josef Salomonovic, who survived Stutthof and gave evidence in December 2021 after traveling to court from his home in the Czech Republic. His father, Erich, had been executed in Stutthof.
Salomonovic held up a photograph of his father and addressed Furchner directly. Outside the courtroom, he says he wanted to confront her with the image of her father. "She is indirectly guilty, even though she was only sitting at the desk," he said.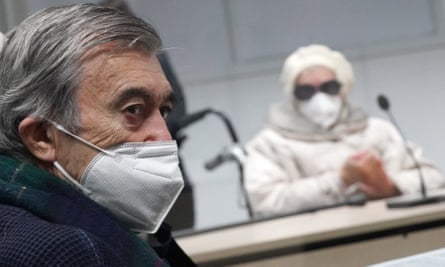 During the trial, judicial officers, including the judge, visited the preserved site of Stutthof, near Gdansk, in what was then territory annexed by Germany. There they saw for themselves how close Furchner's office was to the office she shared with other secretaries of how the camp's death machinery, including gas chambers, crematorium and gallows, operated. .
They concluded that the view she had from her window, her walking to and from the office, and the orders she requested to process on her typewriter and by telephone, were sufficient for her to have had sufficient knowledge and therefore participated actively .. in what was happening in the camp.
During the trial, Furchner spoke regularly with the judge through her attorney but said little. She was usually brought to court in an ambulance flanked by doctors, wearing sunglasses and a face mask, and in a wheelchair.
His lawyer, Wolfgang Molkentin, said his client did not deny the crimes that took place in Stutthof, but denied having been guilty of them himself.