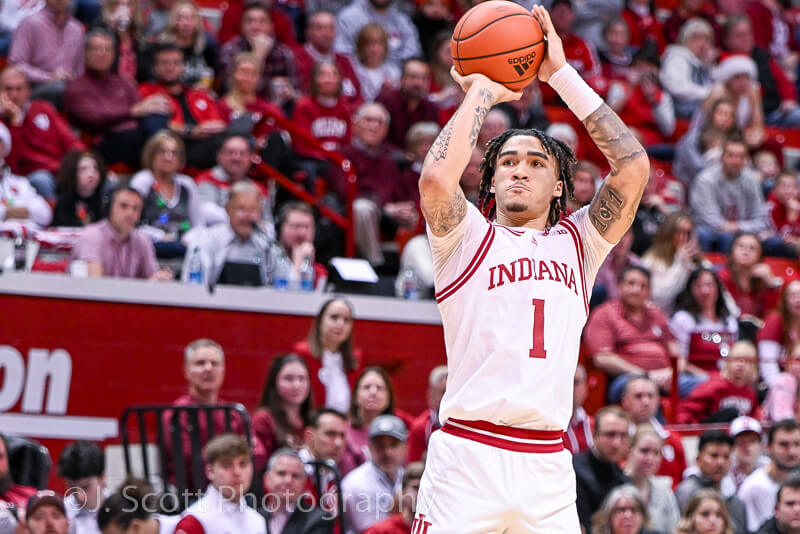 Indiana wrapped up its non-conference schedule Friday night with a 69-55 win over Kennesaw State at Assembly Hall.
Here are five takeaways from Indiana's win:
Another slow start has Indiana playing from behind
It has become commonplace to say that Indiana starts games slowly. For most of the first half on Friday, the Hoosiers were down. It was just a nonchalant demonstration.
The Hoosiers allowed Kennesaw State's first five field goals to be 3; From there, Indiana had to get back in the game. The game was tied at halftime, and Indiana only took control of the game under the eight-minute mark in the second half.
Slow starts have plagued Indiana lately, especially since the Big Ten opener against Rutgers. In Arizona, IU lost 19 points in the first half. Against Kansas, IU trailed by double digits in the first six minutes. Even earlier this week against a bad Elon team, Indiana took the first 10 minutes to get comfortable.
Maybe Friday was the negative weather or the fact that it was two days before Christmas. Whatever the reason, it was a still and uninspired start. The 13-day hiatus until Indiana officially begins playing the Big Ten in Iowa seems like a must.
"I thought they played harder (in the second half) than we did in the first half," Mike Woodson said after the game.
Tamar Bates pushes to be an offensive focal point
With Xavier Johnson and Trayce Jackson-Davis against the Owls, the question arose of where the offense would come from. Tamar Bates replied.
The sophomore led Indiana in scoring with 19 points on 7-of-12 effective shooting. Bates made three 3-pointers Friday. During the season, the Kansas City native is shooting 52% from the field and 42% from deep.
It was clear that Bates was the most talented on the court against Kennesaw State. And Indiana needed him. Without Johnson and Jackson-Davis, there aren't many guys on the Hoosiers roster who can single-handedly create an offense. Bates can do it. He can score at all three levels and becomes a vocal leader, calling his teammates into hugs and being the first to cheer them on.
"Tamar is starting to understand… his minutes will now increase as we will need him to play and make plays for us," Woodson said.
Over the past five games, Bates has averaged 25.2 minutes per game. And now that Johnson is out indefinitely, Bates will have to become a creator for an otherwise stagnant Hoosiers offense.
Indiana's offense is meaningless without Jackson-Davis and Johnson
At times, especially in the first half, it was almost as if the Hoosiers' shoes were glued to the pitch. Minimal movement and rhythm forced Indiana's offense to become one-dimensional. Continuous dumps in the position led to double teams, turnovers and limited second chance points. This time around, it was obvious that Indiana didn't have TJD and Johnson's crutch to lean on.
It wasn't until the second half, when Indiana got small, that things started to flow. Moving Thompson to the five and having him play on the perimeter helped open up and unclog the paint. Finally, guards like Jalen Hood-Schifino could drive to the paint without worrying about defense assist.
It also helped Indiana shoot 7 of 18 (39%) from beyond the arc against the Owls.
The type of offense with or without Jackson-Davis could be what the Hoosiers turn to if the teeming post-double teams keep attacking their big men.
An aggressive Jalen Hood-Schifino means a comfortable guard game
Similarly, as he did in his first game as a point guard against Elon, Jalen Hood-Schifino seemed comfortable leading Indiana's offense.
When Johnson got injured, all eyes turned to the real freshman to lead IU's backcourt. He has answered. For the second game in a row, the Montverde product reached a career high in points and shot the ball high. Against the Owls, he went 18 on 6 of 8 shooting and had three assists and three turnovers.
While turnovers need work, it's also worth noting that Hood-Schifino got to the line for six attempts. Earlier in the season, we would see the point guard opt for pull-up jumpers in transition or out of pick and rolls. But against Kennesaw State, Hood-Schifino came to the rack and it caught the eye.
There's no doubt his play in the Big Ten will be crucial to Indiana's success. But for now, he has to keep doing the little things right and his teammates will follow suit. Reach the foul line, power up the boulder, open up the ground, and transition up and down.
Non-conference play is over, now the real season begins
This year's non-conference slate tested Indiana. This group is thriving, but a 10-3 record with wins over North Carolina and Xavier in January is a solid performance overall.
The problem, however, is how it happened. The losses to Arizona and Kansas were supposed to be close, contested games, and they weren't. These were games where Indiana did not appear.
But the best part about these games for the Hoosiers is that they've been tested. They know what will and won't work against top-level competition. Woodson's team didn't have that last year.
Slow starts and one-dimensional attack will not work once conference play begins. A healthy Jackson-Davis will be needed if Indiana is to live up to the hype of preseason conference favorites.
Filed at: Jalen Hood Schifino, Kennesaw State Owls, Tamar Bates